Best Time To Drink Celery Juice For Maximum Health Benefits
Published Date: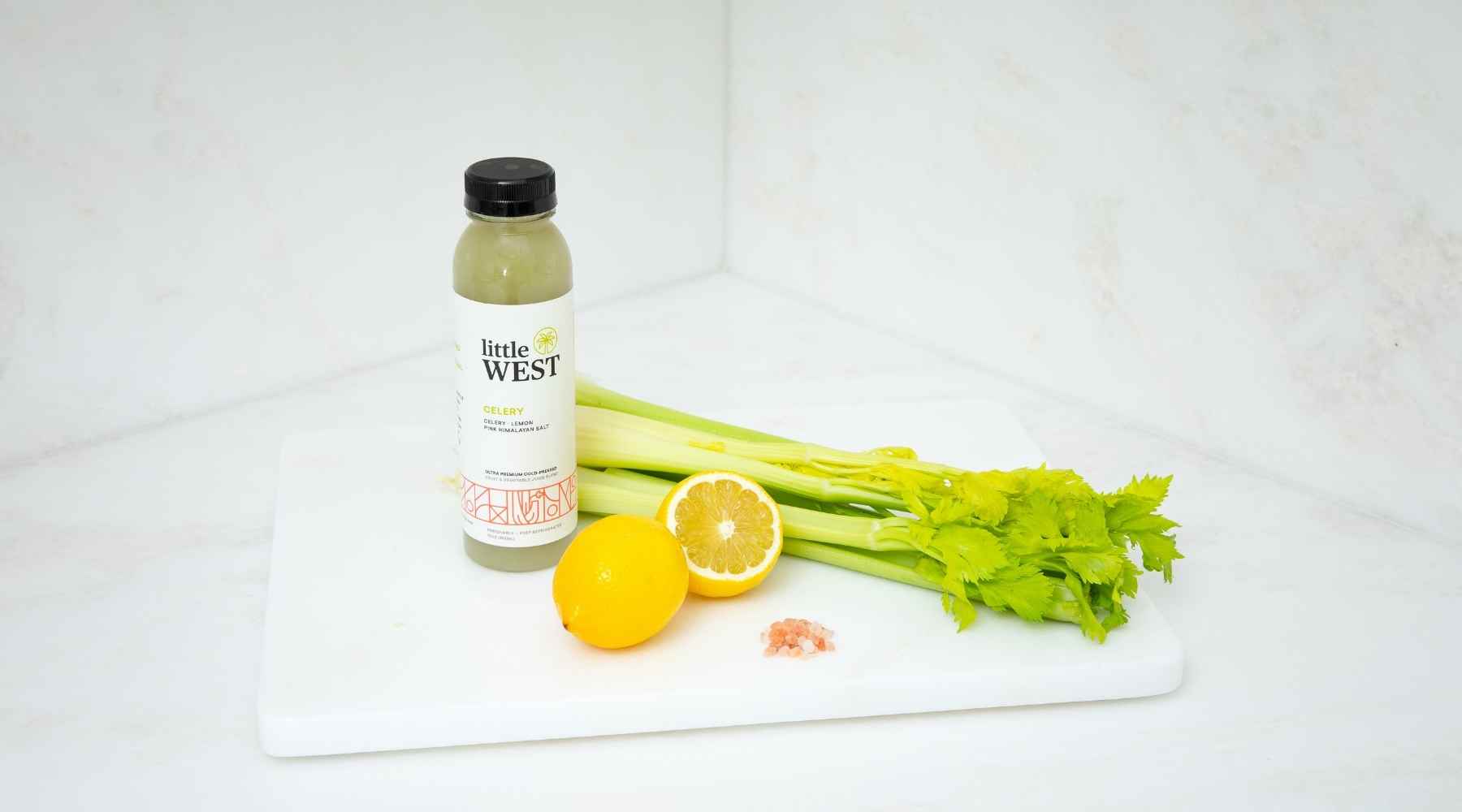 It might not be the sexiest of vegetables, but the humble celery is having a bit of a makeover these days! You might be more familiar with celery as an ingredient in soups, salads, and stews. But did you know that celery juice is not only delicious but packs an incredible amount of nutrients, too? 
We want to bring out the best in this reliable vegetable, so we've developed a range of utterly mouthwatering juices that feature it as a supporting ingredient or as the star of the show!
But before we introduce you to those, we wanted to share some information on what exactly makes celery juice such an awesomely health-conscious choice, and when the best time to drink celery juice is. 
Is celery juice in the morning the ultimate way to hydrate? Or is celery juice before bed the best way to end the day? Should you consume celery juice before or after meals? Read on to find out!
Why Drink Celery Juice?
Well, this could take a while. Celery juice is one of the most nutritious green juices you'll find. Celery has earned itself a reputation as a superfood, and we fully support that label. 
Celery is an unassuming superstar with a range of health-benefitting properties. The stalks, leaves, and seeds all offer a range of essential nutrients. We'd be here all day if we tried to cover all of them, but let's look at a few of the top benefits before we share with you the best time to drink celery juice…
Celery juice is crammed full of antioxidants. In particular, a flavanoid called apigenin is considered effective in reducing toxicity and boosting immunity.
Celery juice may help raise stomach acid levels and strengthen bile, in order to heal the gut. Celery can restore hydrochloric acid, which helps us digest things better and break down food, particularly proteins. Stomach bile is important in breaking down fats and eliminating waste from the body. This means it can be especially beneficial for those on a high-protein diet. With the support that celery juice can give our gut, we are left with more energy to expend on other things!
Celery juice (well, celery) contains a compound called 3-n-butylphthalide (BuPh). We don't expect you to remember that name, but just remember that it's a compound that studies have found to be effective in lowering lipids and reducing bad cholesterol in our bloodstream.

Celery is widely considered to be an effective anti-inflammatory. Many people eat or drink celery to reduce joint pain and swelling. This includes people suffering from gout and rheumatoid arthritis.
Celery juice may aid liver function. Studies have found that consuming celery may help protect against fat buildup in the liver. Celery contains nutrients that can help protect the liver, enabling it to better produce enzymes that flush out fat and toxins.
Celery juice may support healthy digestion. Celery juice is a popular choice amongst people who want to reduce symptoms of poor digestion such as bloating, constipation, and water retention.
Celery juice is incredibly nutritious. Not a specific benefit here but we just want to reiterate just how nutrient-packed celery is! Celery contains an abundance of vitamins including B6, C, and K. It's full of essential minerals such as potassium and folate. 
The Best Time To Drink Celery Juice
Drum roll, please! The jury is out and the best time to drink celery juice is… first thing in the morning, on an empty stomach! OK, it's often said that juices are best consumed in the morning on an empty stomach. You might have already heard that. And we often take that advice without actually knowing why. But let's look at why that is…
It's thought that an empty stomach allows the body to absorb the nutrients contained in celery juice more quickly and effectively. That makes sense, right? And the morning is the time that most of us have an empty stomach, assuming we've not been eating in our sleep! If you drink celery juice before bed, your stomach might not be empty enough to get the full benefits.
Celery juice in the morning can also give you an energy boost, which makes it a healthy alternative to coffee, though we won't stop you from enjoying a coffee as well!
It's a great way to start the day if you're going to work out or do some morning yoga as it will give you a boost without weighing you down. Then you can enjoy a tasty breakfast after your workout. Celery juice before bed feels like a bit of a waste when you don't actually require a boost at that time.
Now, we're not gonna lie - celery juice probably won't fill you up! It's incredibly low on calories so it won't give you a great deal of energy for getting on with your day. For this reason, we recommend waiting at least 15 minutes after drinking your celery juice in the morning and then having a healthy breakfast, such as oatmeal, granola, avocado toast, or plant-based yogurt with fruit.
We suggest waiting a bit as it gives the celery juice time to sink in and begin working its magic, and avoids the juice mixing with food, which will slow down the digestion process. Because most of us are busy or rushed in the morning (or just hate mornings!), we think our juices are the most convenient way to enjoy celery juice in the morning. Yes, we are biased, but we're confident you'll agree. Not only are they pre-made to perfection, but they also taste absolutely divine.
Plain old celery juice can be a little dull or bitter, which is probably why celery juice tends to have a bit of a bad rep. We've been giving this simple but powerful vegetable a makeover, so our juices add a few other simple ingredients to bring out the best of it. Need some more proof? Let's look at a few of our refreshing juices that contain celery…
Our Top Juices With Celery
Cold Pressed Celery Juice Blend
This celery juice keeps things simple. Perfect for the staunchest of celery fans! We add a little dash of Himalayan salt and lemon juice, to enhance the natural flavors of celery. It's simple, but it's powerful. Light, crisp, and totally refreshing, we're sure you'll be a celery fanatic in no time! Celery juice in the morning has never tasted so good.
Detox Greens | Detoxifying Cucumber Kale Spirulina Juice
Whilst celery isn't the star of the show here, Detox Greens brings much-needed freshness and lightness to this nutritious blend. It combines celery with coconut water, cucumber, kale, fennel, parsley, lemon, E3Live, and spirulina. If you don't know what E3Live is, it's a nutrient-rich blue-green alga that's considered to be a superfood. If you're new to the world of green juice, this is a great one to start with as it's got a bit of everything!
The Clover | Kale Cucumber Pear Juice
If you want a celery juice option with a little sweetness, this is a great choice. Again, celery isn't the star of the show, but it plays an important role. This juice contains celery alongside kale, cucumber, spinach, pear, cilantro, mint, and lime. It's the perfect combination of sweet, zesty, light, and refreshing. We love this juice on those mornings that feel like a struggle!
Celery Juice: The Bottom Line

Health-wise, you can't go wrong with celery juice in the morning. We've outlined some of the top celery juice benefits but there are plenty more to discover. Don't be put off by celery's rather unsexy reputation! Our celery juices are carefully crafted to bring celery into the 21st century, and bring out the best of its flavor and refreshing potential!
Whilst it's widely agreed that it's best to consume cold-pressed juice in the morning, it won't cause any harm if you consume celery juice before bed. Celery juice before and after meals is a good thing and that's that. The bottom line is: add celery juice to your diet and enjoy some amazing benefits. Morning is best, but any time is better than none! Try our juice cleanse and juice subscription options to experience its benefits today!