Healthy Holiday Gift Ideas for 2020 and Beyond
Published Date: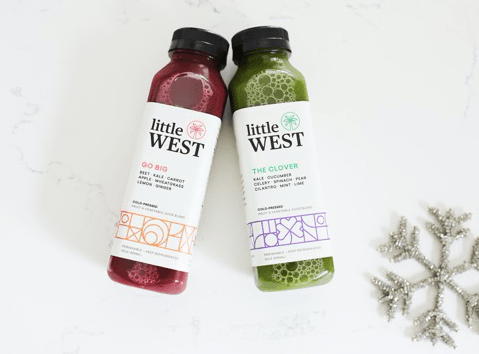 What are the best holiday gifts to give in 2020? For many of us, this isn't just another holiday season. 2020 has illuminated what's truly important in life -- and it's not a new gadget or shiny bauble. 
At Little West, we believe the best holiday gifts for 2020 promote health and wellness, quality time with your loved ones, and personal habits that lead to a more fulfilling life. As a small business, we also encourage you to shop local whenever possible. 
2020 has taught us to think outside the box and the holidays are no different. By getting creative, you can find meaningful gifts that your friends and family will love. Whether they're a fitness buff missing the gym or a foodie who loves cold-pressed juice, there's a healthy gift for everyone. 
To help you give the gift of health, Little West is offering 15% off* all online orders for family and friends with the code HOLIDAY15.  
Here are some of our favorite healthy holiday gift ideas for 2020. As a small business, we also encourage you to shop local whenever possible. 
1. Local Restaurant Gift Cards
Treating someone to a healthy meal is always a lovely gesture. Unfortunately, many of us can't take our friends or family to a restaurant right now due to COVID-19 restrictions. But we can do the next best thing and buy them a gift card or gift certificate. 
Buying gift cards is also a great way to support local restaurants and cafes. Many small businesses in the food industry are struggling right now and they'll be very grateful for your patronage.
Restaurant gift cards can also encourage someone to try a new, healthy food option they might not consider on their own. Instead of pizza or fast food, you can give gift cards to restaurants and cafes that specialize in healthier options like salads, vegan/vegetarian food, smoothies, or juice. 
2. A New Journal
Dear Diary, did you know that journaling offers powerful health benefits? Studies suggest that people who journal experience fewer stress-related health problems such as hypertension. Reducing chronic stress with mindfulness activities like journaling can also improve your immune system. 
A new journal makes a great holiday gift for almost anyone. You can find beautiful handmade journals or purchase a wide variety of designs from local bookstores and independent shops. Some journals can also be customized with your recipient's name or initials.
3. Online Classes for the Body & Mind
While many local fitness studios and gyms remain closed, most of these businesses now offer online classes. From yoga to cardio to kickboxing, online classes make it easier than ever to get fit and stay in shape without leaving your home. Consider giving a digital class pass or gift subscription for the people on your 2020 holiday shopping list.
Of course, physical fitness is only one part of staying healthy. Your friends and family may love to receive a premium meditation app like Calm or Headspace, or a subscription to websites like MasterClass that offer educational seminars and workshops. These thoughtful, practical gifts can help your loved ones learn a new skill or discover new interests.
4. Self-Care Moments
If there's ever been a year when people need more self-care, it's 2020. Consider giving your friends and family a "self-care moment" as a holiday gift. This could be a certificate for a massage, facial, or spa day, or a customized gift basket with your loved one's favorite skincare products or essential oils from local small businesses.
You could also help them make more time for self-care with a homemade coupon for a favor. Offer to babysit, do some yard work, or run an errand for your busiest friends and family. This can be a great gift for parents, especially if their children have been remote learning. Getting a few hours of free time to relax can do wonders for your health.
5. Cold-Pressed Juice from Little West
Cold-pressed juice is a delicious, convenient way to get extra nutrients and boost your immune system naturally. Since we often indulge in more rich foods and desserts this time of year, Little West juices can also help balance your diet. They're also the perfect holiday gift for anyone looking for a healthy start to the new year. 
For the 2020 holiday shopping season, we'd like to help you give the gift of health with 15% off* all online orders for family and friends. Just use code HOLIDAY15 at checkout. Shop now.
*Offer valid on online orders of 12 bottles or more. Expires 02/01/2021.