3 Healthy Green Recipes for St. Patrick's Day
Published Date: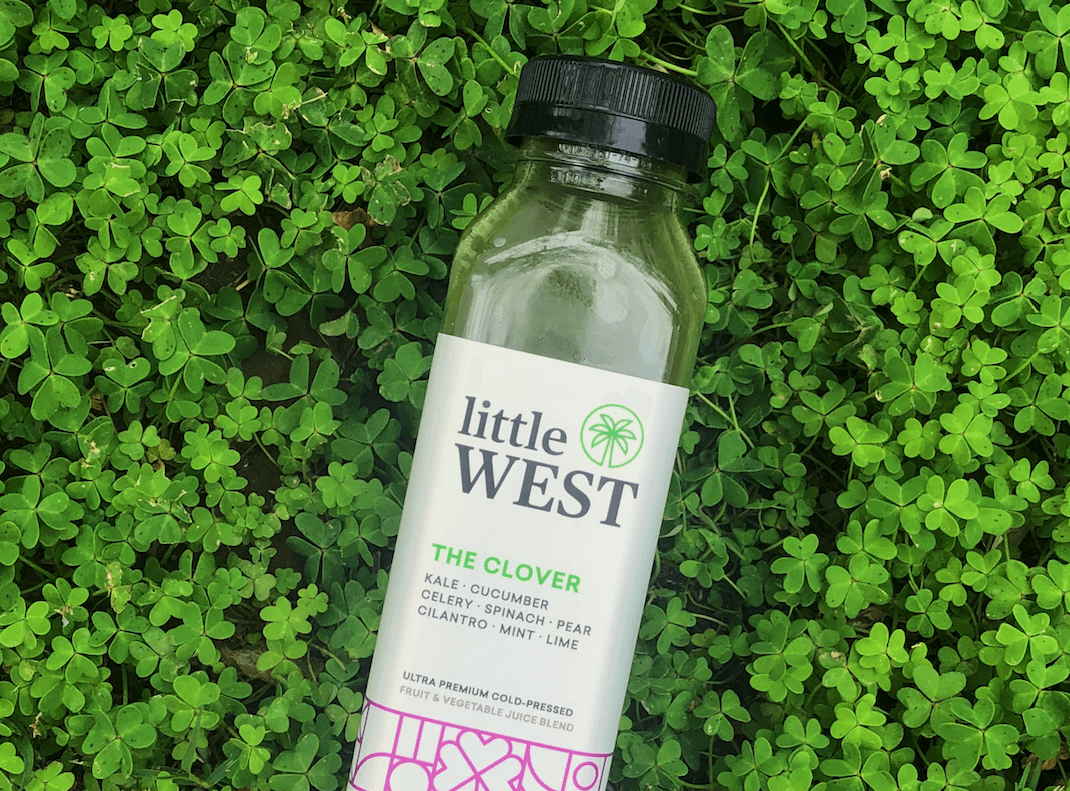 St. Patrick's Day is almost here! As a worldwide celebration of Irish culture, this March 17th holiday commemorates the Emerald Isle with lots of green: green costumes, green cabbage, green beer, and even
green mayonnaise
. 
At Little West, we celebrate St. Patrick's Day with our green Clover juice. The three-leaf clover, or shamrock, is very common in Ireland. According to tradition, the shamrock's three leaves symbolize faith, hope, and love. When you find a rare clover with four leaves, the extra leaf brings you the famed luck o' the Irish.
While there are no actual clovers in our cold pressed juice -- four-leafed or otherwise -- we feel very lucky that we're able to bring such delicious, healthy juice into the lives of our customers.
Each bottle of Little West Clover contains 2-4 lbs. of raw kale, cucumber, celery, spinach, pear, cilantro, mint, and lime. This cold pressed green juice is also anti-inflammatory and immune boosting. 
So kick back with a delicious, crisp Clover juice and try some of our favorite healthy green recipes for St. Patrick's Day. These recipes will put some festive color into your St. Patrick's Day celebration while "sneaking" extra green veggies into your meals! 
Cassandra's Basil Kale Pesto
Who doesn't love a rich, savory green pesto? Our co-founder, Cassandra, whips up a batch of this pesto at least once every two weeks and keeps extra jars in the freezer. It's perfect for pasta, dips, or sandwich spreads. 
Try serving on a St. Patrick's Day platter with celery sticks, broccoli florets, and cucumber slices!
Ingredients
1 large pack organic basil

2 large handfuls baby kale

½ cup Pecorino cheese

1 garlic clove

2 large handfuls shelled pistachios

LOTS of olive oil
Directions
Add ingredients to the blender and blend until smooth. 
Ultra-Delicious Green Sauce 
Consider yourself warned: this green sauce is addictive! It's versatile, delicious, and loaded with healthy herbs. Try this sauce on fish, poultry, or use it as a salad dressing.
Ingredients
6 olive oil-packed anchovies, cut into small pieces

1 tbsp Dijon Mustard

1 tbsp red wine vinegar

¼ cup roughly chopped fresh parsley

1/3 cup roughly chopped fresh basil

1/3 cup roughly chopped fresh cilantro

½ cup roughly chopped chives

¼ cup extra virgin olive oil

Freshly ground black pepper
Directions
Put anchovies into a bowl, then stir in the mustard and vinegar. 
Add the herbs and slowly stream in the olive oil. 
Season with pepper. (No need for salt, since the anchovies provide saltiness.)
Green Mint Vegan Ice Cream (with Hidden Veggies)
This healthy dessert was created by Little West co-founder Cassandra Walker and Brooke Rewa, founder of Goodmylk Co. It's a summertime favorite that's also perfect for St. Patrick's Day thanks to its vibrant green color. 
Loaded with hidden veggies, we bet your St. Patrick's Day party guests (and your kids!) will never guess they're indulging in such a healthy treat.
Note: To prepare this vegan ice cream recipe, you will need a high-end blender with a tamper.
Ingredients
1 frozen banana

4-5 chunks frozen cauliflower

1 handful spinach leaves

3-4 oz. Little West The Clover juice (kale, cucumber, celery, spinach, pear, cilantro, mint, lime)

1 packet

Goodmylk Almond Original Concentrate

(keep frozen!) (almonds, water, dates, salt) 

5 drops mint extract 
Directions
Drop frozen banana, cauliflower, spinach, and Clover into blender. Blend until smooth, using your blender's tamper to move the ingredients around as needed.  
Add frozen Goodmylk Concentrate and mint drops.  
Blend until ice cream consistency. 
Pour into your favorite bowl and enjoy! Makes 3-4 servings.