5 Holiday Cocktail Recipes Made with Cold Pressed Juice
Published Date: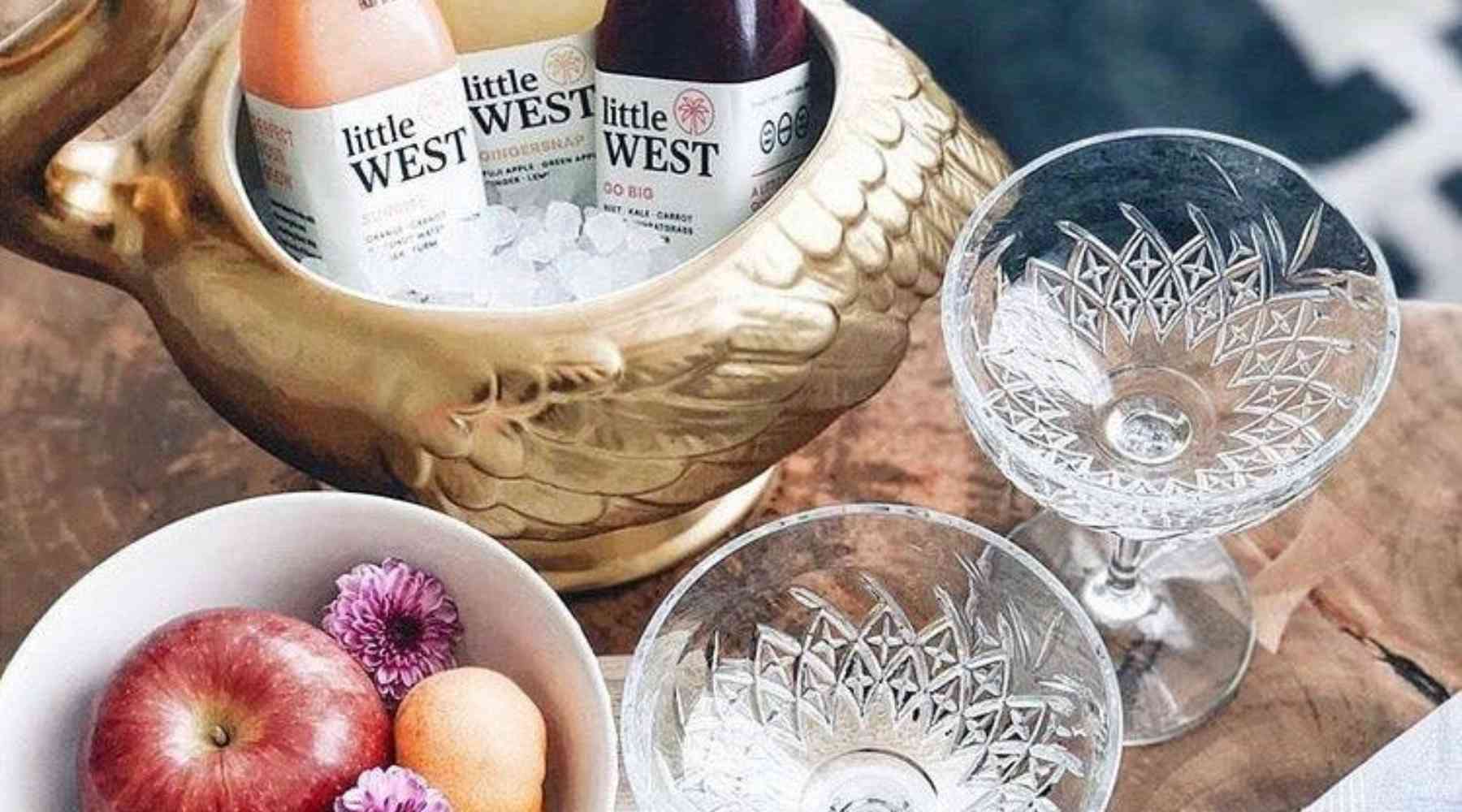 Cheers! Let's raise a glass to a happy holiday, maybe a birthday celebration or just a toast for life. No matter what you're celebrating, a handcrafted holiday cocktail can make a great evening even better.
Looking to take your mixology game to the next level? Try mixing holiday cocktails with fresh cold-pressed juice from Little West.
When you're making a cocktail, you'll always get the best flavor from fresh ingredients. Little West cold-pressed juices are the perfect mixer. We only use the freshest fruits and vegetables from local farms, with no added sugars or preservatives. Our juices are also never watered down.
No matter which juice you use, you'll add a delicious, nutritious spin on your favorite holiday cocktails without depleting all your body's vitamins and minerals. Our cold pressed juices also have gorgeous colors from the fresh fruits and vegetables, which will make your cocktails look even more delicious. 
A Little West cocktail makes your evening merry and bright -- and they help make sure the next morning is merry and, well, bright but not too bright, if you catch our drift.
So try these cold-pressed juice cocktail (or mocktail!) recipes for your holiday festivities:
1. Fireball Hot Toddy
Hot toddies are a classic holiday cocktail for warming your soul and boosting your immune system. Try our anti-inflammatory version made with Little West Fireball! With powerful anti-inflammatory ingredients like ginger and turmeric, a Fireball hot toddy is a great mixed juice drink which can ease cold symptoms or soothe aches and pains from the winter weather. 
Ingredients:
2 oz. Fireball
8 oz. hot water
1 tsp. raw local honey (or maple syrup)
A splash of bourbon, whisky, or dark rum
Directions:
Pour Fireball into a coffee mug or teacup, then add hot water, honey or maple syrup, and your alcohol of choice. Stir. Garnish with a wedge of fresh lemon -- and a dusting of cayenne, if you're feeling fiery!
Mocktail Version: Omit the alcohol. 
Fireball contains 30 calories, 0 grams of fats, 1 gram of sugars and protein per serving (2oz). This pressed drink also contains potassium, vitamin A, vitamin C and iron.
2. Gold'n Sunrise
We could all use more golden sunshine during the winter months. Try our Gold'n Sunrise cocktail, a Little West twist on the classic tequila sunrise. Made with tequila, Little West Gold'n Greens, and grenadine, the Gold'n Sunrise cocktail is refreshing, hydrating, and anti-inflammatory. This cold press juice cocktail recipe will bring a fun tropical flare to any holiday cocktail party.
Ingredients:
¾ cup Gold'n Greens juice
¾ oz. grenadine syrup
1 ½ oz. tequila
Directions:
Fill a highball glass with ice, then pour in tequila and Gold'n Greens juice. Slowly drizzle the grenadine down the side of the glass. Garnish with an orange slice, lemon slice, or maraschino cherry.
Mocktail Version: Omit tequila, or try substituting with sweet pickle juice! The sweet-sour tang of the pickle juice mimics the unique flavor profile of tequila. (Or so we're told...)
Gold'n Greens contains 100 calories, 0 grams of fats, 24 grams of carbohydrates (19 of sugars), and 2 grams of protein per serving (8oz). It is also high in potassium and vitamin B. 
3. Gingersnap Mule
Did you know Moscow Mules aren't from Moscow? This cocktail was actually invented in the 1940s at the Cock 'n Bull pub in Hollywood. Still, with a cold city like Moscow in the name, this popular beverage evokes the festive, cozy spirit of winter. Our version uses a delicious cold press juice, Little West Gingersnap with unflavored sparkling water as a substitute for ginger beer. 
Ingredients:
3 oz. Gingersnap juice
3 oz. unflavored sparkling water
½ oz. fresh lime juice
2 oz. vodka
Directions:
Squeeze lime juice into a chilled copper mug. Add ice cubes, vodka, Gingersnap juice, and sparkling water. Stir and garnish with a slice of lime and a sprig of fresh mint. Serve with a stirring rod, if available.
Mocktail Version: Omit vodka. For a sweeter palette, use ginger beer or lemon-lime soda instead of sparkling water.
Gingersnap contains 140 calories, 0 grams of fats, 34 grams of carbohydrates (28 of which are sugars) and 1 gram of protein in one serving (8oz). This cold press juice also contains potassium, calcium, vitamin C and iron. 
4. Go Big Scottish Beats
A beet cocktail!? No, it's not a joke from Dwight on The Office. The Scottish Beats cocktail is a holiday variation on the classic Blood & Sand cocktail, using beets for their subtly-sweet flavor and rich color. Beets also promote kidney and liver health. While the original recipe calls for cooked beet puree, we like ours with Little West Go Big instead. This mixed juice drink brings veggie flavors from kale, carrot, wheatgrass, and ginger, which pleasantly offset the sweetness of this cocktail. 
Ingredients:
¾ oz. Little West Go Big juice
1 ½ oz. Scotch
¾ oz. cherry liqueur
¾ oz. Sweet vermouth
½ oz. Cointreau
Directions:
Pour all ingredients into a shaker with ice, then shake until chilled. Strain into a cocktail glass and garnish with a twist of orange peel.
Mocktail Version: Omit Scotch and vermouth, substitute cherry syrup for cherry liqueur, substitute Little West Orange juice for Cointreau.
Go Big contains 110 calories, 0 grams of fats, 25 grams of carbohydrates (of which 19 grams are sugars and 3 grams fiber), and 2 grams of protein per serving (8oz). It also contains potassium, calcium, vitamin C and iron. 
5. Little West Mimosas
Planning a festive brunch? It is always a good idea to make homemade mimosas. Whether you're celebrating with family or attending a Zoom gathering, mimosas are the perfect holiday cocktail. They're refreshing, simple, and festive. For this cold pressed juice cocktail recipe, we like to use Little West Orange juice or The Quench.
Ingredients:
¼ cup Orange juice or The Quench juice
¾ cup chilled champagne or sparkling white wine
Directions:
Pour juice and champagne or sparkling wine into a champagne flute or tall wine glass. The juice-to-alcohol ratio can be adjusted based on personal preference.
Mocktail Version: Use sparkling cider, lemon-lime soda, or your favorite sparkling water instead of champagne or sparkling wine. 
Our Orange juice contais 100 calories, 0 grams of fat, 24 grams of carbohydrates (of which 19 grams are sugar) and 2 grams of protein per serving (8oz). It is also high in potassium, vitamin B, vitamin D and iron. 
The Quench contains 50 calories, 0 grams of fat, 11 grams of carbohydates ( of which 2 grams are fiber and 5 grams sugars) and 2 grams of protein per serving (8oz). It also contains potassium, vitamin B1, calcium and iron. 
Extra Tips For Your Delicious Juice Cocktails
We hope you enjoy our fresh, delicious and nutrient-dense juices with your favorite cocktails. These cold press juice cocktail recipes will be at their best to enjoy immediately after making, but you can store them in the refrigerator for up to 2 days (unless it contains ice or is a hot cocktail). Because natural cold pressed drinks are used, separation is natural - just give the drink a stir or a gentle shake and it will be ready to enjoy. 
Another way to use our delicious cold pressed juices is to freeze it in ice cube trays. These iced fruit cubes will be a delicious addition to already made cocktails or with cider, for example. You can also throw these cubes into a blender with other cocktail ingredients to make a delicious crushed ice cocktail for the hot summer days. 
Celebrate with Family and Friends from Afar
If you can't be together with family and friends this year, you can still plan a virtual holiday happy hour and have Little West delivered to your loved ones' doorstep! Take 15% off* all online orders when you buy Little West juices as a gift. Use code HOLIDAY15 at checkout.
Please celebrate responsibly. 
*Clink!* Happy Holidays!