5 Best Green Juices To Aid Weight Loss
Published Date: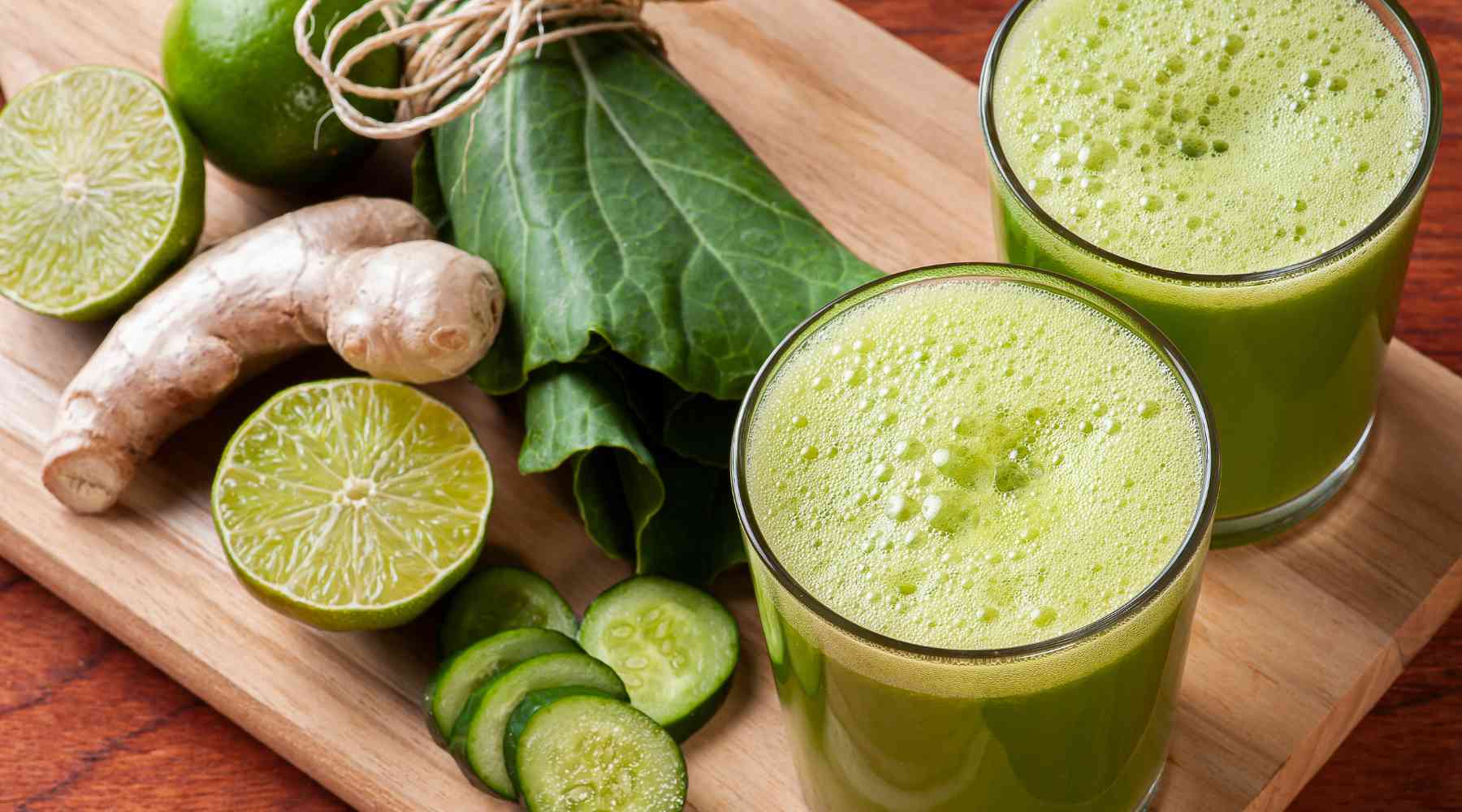 Most of us have experienced how hard it can be to shift stubborn weight. Sometimes it feels like the more you think about it, the harder it becomes! But focussing too much on our weight tends not to breed a healthy body or mind. Ensuring we enjoy a balanced diet full of essential nutrients will help us achieve just that. Weight loss is possible when you adopt a healthy diet that combines wholesome, natural foods, and exercise. Yeah yeah, we've heard it all before, but it's true!
Weight loss should not be the sole goal of a healthy lifestyle, but may be one of them. OK - sometimes we might want that little extra boost before a big event or when we're feeling a little bloated after overindulging. That's just one of the times when green juice can come in handy! We sell a range of the best green juice to aid weight loss (and much more!) that can help keep your body feeling good and looking awesome.
Read on to learn more about the benefits of drinking green juice…
Is Green Juice Good For You?
The short answer: yes, the benefits of drinking green juice are plenty! Drinking green juice every day can help you get the number of vitamins and other essential nutrients that your body needs each day. Adding green juice to your diet makes for a quick and easy way to cram in the nutrients from more fruit and veggies. We love adding a glass to our morning routine to help us start the day on a high.
Before we talk about weight loss, let's look at a few of the other benefits of drinking green juice. Firstly, it can help fill your body with plant nutrients and chlorophyll from leafy greens. Studies have shown that chlorophyll may boost the immune system, reduce inflammation, and increase red blood cell production. Chlorophyll is found in high quantities in the leafy greens that many of our best green juices to aid weight loss contain.
Many people swear by drinking green juice every day in order to improve their skin. Not only is it hydrating, but the natural ingredients contain lots of antioxidants and other nutrients that may improve skin health. Whilst consuming fruit and veggies in other forms may lead to the same benefits, green juice is a quick and convenient way to make sure you're getting enough of the good stuff. Give it a try and you might find yourself glowing from the inside out!
The nutrients in green juice can also give you a much-needed boost in energy. It's important to get enough fruit and vegetables into your diet in order to maintain your energy levels throughout the day. Try drinking green juice every day in the morning, to give yourself a boost without the crash associated with caffeine!
Also Read - Top 7 Benefits of Green Juice
Green Juice and Weight Loss
Considering green juice to aid weight loss? You've probably seen celebrities, wellness bloggers, and influencers all sing the praises of green juice. Sometimes this is for the benefits we've outlined above, and sometimes it's for the helping hand green juice can offer towards losing or managing weight. But is there truth in these claims? Let's look at some of the evidence…
Some studies have shown that drinking fruit and vegetable juice may support the gut microbiota, which is an integral component of overall health. It was observed that consuming juice regularly could potentially alter the intestinal microbiota associated with weight loss. Certain compounds in leafy green vegetables may act as probiotics and routine probiotic intake has also been linked to weight maintenance.
As with any weight loss strategy, the results will depend upon your overall diet and lifestyle, as well as any relevant medical factors. Green juice is no miracle cure or sure fast weight loss solution, but studies have shown that it can be useful to include in your daily diet if you are looking to manage your weight. It is possible that the addition of green juice to your diet can help speed up metabolism, though this area requires more research before any solid conclusions are reached.
Is green juice for you? Yep, it sure is. Will it help you lose weight? That depends on other factors, but it can make an excellent weight loss companion and aid. As always, we recommend speaking to a medical professional or nutritionist if you have any doubts about what is right for you. Losing weight is a journey that begins with healthy eating and an active lifestyle.
Read on to learn more about the best green juice to support weight loss!
Check Out - 5 Healty Detox Juice to Aid Weight Loss
The Top 5 Green Juices to Aid Weight Loss

Now that we've outlined some of the potential benefits of drinking green juice, let's look at some of the best green juices that we offer at Little West! Whether you want to lose weight or not, these fresh and nourishing juices will be sure to brighten your day.
Gold'n Greens: Pineapple Kale Turmeric Juice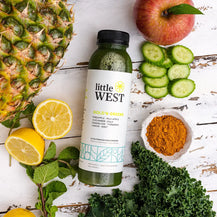 Pineapple · Fuji Apple · Cucumber · Kale · Dandelion · Turmeric · Lemon · Mint
$8.50
This amazing green juice is a great one to get you started. The sweet, tropical flavor of pineapple elevates the taste to a tangy new level of refreshment. It's packed with enzymes, vitamins B and D, potassium, iron, and antioxidants. Raw turmeric root is considered effective in reducing inflammation. Kale is incredibly low in calories so can be a great choice if you're looking to manage your weight. It's also rich in vitamins A, C, and K, to support your overall well-being.
The Clover: Kale Cucumber Pear Juice
Kale · Cucumber · Celery · Spinach · Pear · Cilantro · Mint · Lime
$8.50
Another green juice where kale is the star of the show! This refreshing choice combines earthy kale with hydrating cucumber and delicately sweet pear. And that's not all - this juicy delight also contains spinach, celery, cilantro, and mint for maximum green goodness. Like kale, spinach is very low in calories and sugars so it makes a great addition to a calorie-controlled diet. The Clover ensures you get plenty of leafy greens into your belly.
Detox Greens: Detoxifying Cucumber Kale Spirulina Juice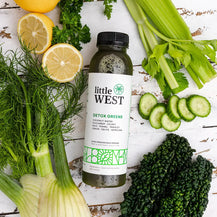 Coconut H2O · Cucumber · Celery · Kale · Fennel · Parsley · Lemon · E3live · Spirulina
$10.50
Choose this green juice if you want to experience the benefits of spirulina. Not sure what spirulina is? Well, it's a kind of blue-green algae that grows in both salt and fresh water. It's become known as a superfood thanks to all the amazing nutrients it contains. Studies have found that spirulina can have significant health benefits, including aiding weight loss. This juice combines this wonder ingredient with coconut water, kale, cucumber, celery, fennel, parsley, and lemon, for a refreshingly delicious drink.
Cold-Pressed Celery Juice Blend
If you like your juice pure and simple, this green juice makes an excellent choice. It's made with lots of fresh celery, a dash of lemon juice, and Himalayan salt to bring out the best of its flavor. Celery is incredibly low in calories so makes for a great juice choice if you're looking to restrict your overall calorie intake. It's full of dietary fiber which may help improve your digestion. Studies have found that this can potentially help you manage your weight. Asides from all that, this green juice is incredibly refreshing!
Deep Detox Green Juice Cleanse Kit
Can't decide which green juice to aid weight loss is for you? Why not buy our green juice cleanse kit and have a bit of everything?! This kit comes with 14 bottles of deliciously refreshing juice that will deliver you a spectrum of awesome nutrients every day. You'll find plenty of raw green superfoods such as spinach, kale, spirulina, wheatgrass, parsley, and celery here! This is the ultimate way to see what green juice can do for you.
To Wrap It All Up…
In an age when almost everyone seems to be an influencer, it can be hard to know what to trust. Sponsored posts and fad diets make the online world of well-being a confusing place. Yup, you know what we're talking about. But, we're also confident that if you try our green juice you'll see that it's more than just a passing trend. You'll feel that it's more. Sometimes trends are trends for a reason!
As we've outlined, green juice tends to be a great low-calorie juice option as well as a way to cram in a powerful dose of vitamins and other essential nutrients. And with our handy bottles of juice, there's no chopping, peeling, prepping, or even chewing involved! It's the perfect way to start drinking green juice every day when you've got a hectic schedule.
The bottom line is: whether you love eating your greens or not, our range of gorgeously green juices will delight your tastebuds and much more. Grab some today and let us know how it glows! And don't forget to explore our juice subscription options for convenient access to your favorite cold-pressed juice blends & juice cleanse kits.