Top 7 Benefits of Green Juice
Published Date:
Ever since the mid-2000s, green juices have been a part of the healthy living story; they were incredibly popular when they first were introduced, then there was a bit of a lull, but now their popularity is back in full force. A juice packed with all sorts of nutrient-rich, green vegetables is sure to have major appeal, especially since we have all become a lot more health and environmentally conscious. 
But how exactly is green juice good for me? Is there just one specific recipe that needs to be followed? Is it better if I drink it at a specific time of day? No fear, you'll get your answers to these and more questions; just keep reading!
What is Green Juice?
The answer to that is very simple really; green juice is a type of juice that is made using green fruit and vegetables. Though there isn't an official recipe, most juices contain some or all of these amazing greens: celery, kale, Swiss chard, spinach, wheatgrass, cucumber, parsley, and mint.
But that can't be it, right? That doesn't sound particularly appetizing. Don't worry, it doesn't stop there! If we made green juice just with those green veggies, the end result would be quite bitter. If that is your jam, absolutely no judgment; however, if like us, you have a bit more of a sweet tooth you can sweeten the deal by adding some fruit. This is where you can get creative because these fruits don't have to be green. Some of the most popular are apples, berries, kiwis, lemons, oranges, and grapefruit.
Healthy, tasty, and totally customizable, green juices are fantastic, nutritious addition to a balanced diet. If you really want to reap the benefits, have one first thing in the morning!
Also Read - Top Green Juice Cleanse & Their Benefits
Top 7 Benefits of Green Juice

1. Packed full of vitamins and minerals
Alright, you probably knew this one already, but that doesn't make it any less true. Due to the number of fruits and veggies in green juices, they have loads of amazing and necessary minerals, vitamins, and enzymes. They are also natural, which makes them easier and quicker to absorb. 
2. Can help reduce inflammation
According to research, getting a good dose of leafy greens could reduce inflammation and thus the chances for health issues like diabetes and heart disease. As you are sure to find leafy greens, as well as other anti-inflammatory ingredients like cucumber, celery, and parsley in green juice, there's a great chance that any inflammation will reduce. 
3. May improve your digestive health
Though more research needs to be conducted, studies suggest that green juices could help support the health of your gut. The reason for this is that green juices often contain quite a lot of prebiotics and digestive enzymes, both of which encourage good bacteria to grow in the digestive system.
4. Naturally energizing beverage
It's true! Thanks to all those lovely nutrients found in them, green juices could be a great way to get you energized for the day. No caffeine, no nasties, and no late afternoon crash, just all those amazing fruits and veggies that are jam-packed full of goodies.
5. May greatly improve your immune system
We may sound like a broken record, but it does always come down to those all-important nutrients. All the ingredients in green juice, be they fruit or vegetable, provide you with all sorts of vitamins and minerals that can boost your immune system. 
6. May keep your eyes healthy
This is a bit of a random one but stay with us; quite a few common green juice ingredients, like spinach and Swiss chard, have vitamin A. Vitamin A has been connected to good eyesight and studies have shown that being deficient has been linked to blindness in South East Asia. Deficient or not, having an extra dose of this vitamin is never a bad thing.
7. May help keep your body's pH balanced
Making sure your body is neither too acidic nor too alkaline is very important. If your body starts leaning more acidic then minerals that are needed for other parts of the body will be used to balance the pH. This could lead to joint stiffness, lethargy, and even weak bones. But thanks to the massive amounts of minerals in green vegetables, green juices may be just what's needed. 
Our Delicious Green Juices
Gold'n Greens: Pineapple Kale Turmeric Juice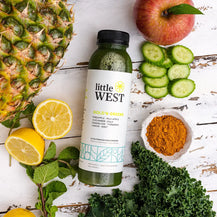 Pineapple · Fuji Apple · Cucumber · Kale · Dandelion · Turmeric · Lemon · Mint
$8.50
Wonderfully refreshing, hydrating, and packed full of vitamins and minerals, this cold-pressed green juice is sure to become your go-to. A gorgeous blend of kale, pineapple, and cucumber, a sip of this will make you feel golden. With absolutely no added nasties, this plant-powered delight is a tangy taste of the tropics with all the yummy benefits of green juice.
Detox Greens: Detoxifying Cucumber Kale Spirulina Juice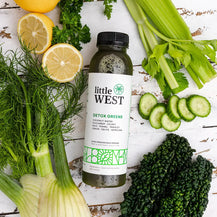 Coconut H2O · Cucumber · Celery · Kale · Fennel · Parsley · Lemon · E3live · Spirulina
$10.50
If you are looking for a plant-powered, detox dream, then look no further. This green juice is all about helping your body's natural detox process, whilst also pumping you with loads of vitamins and minerals. Enjoy the lovely hint of lemon and spirulina amongst all those veggies and feel refreshed and hydrated. 
The Clover: Kale Cucumber Pear Juice 
Kale · Cucumber · Celery · Spinach · Pear · Cilantro · Mint · Lime
$8.50
A gorgeous blend of kale, celery, and spinach, this delicious juice is a great way to enjoy all your greens. And it doesn't stop there; there's also cucumber, pear, cilantro, mint, and lime for both yummy flavor and all sorts of good stuff. Tasty, refreshing, and packed full of nutrients, The Clover juice is an absolute show-stopper. 
Also Read - Top 5 Green Juices To Aid Weight Loss
Wrapping Things Up
To wrap things up, green juices have a whole host of benefits that make them both delightful to drink and fantastic for your overall health. Whether you whip up your own or get yourself Little West's Green Juices, paired with a balanced diet, these incredible beverages can be the ideal way to ensure you are getting what you need in a quick and easy way. Embrace the goodness of cold-pressed juice, embark on a rejuvenating juice cleanse, and consider a convenient juice subscription to elevate your wellness journey.