Green Juice 101: Is Green Juice Actually Healthy?
Published Date: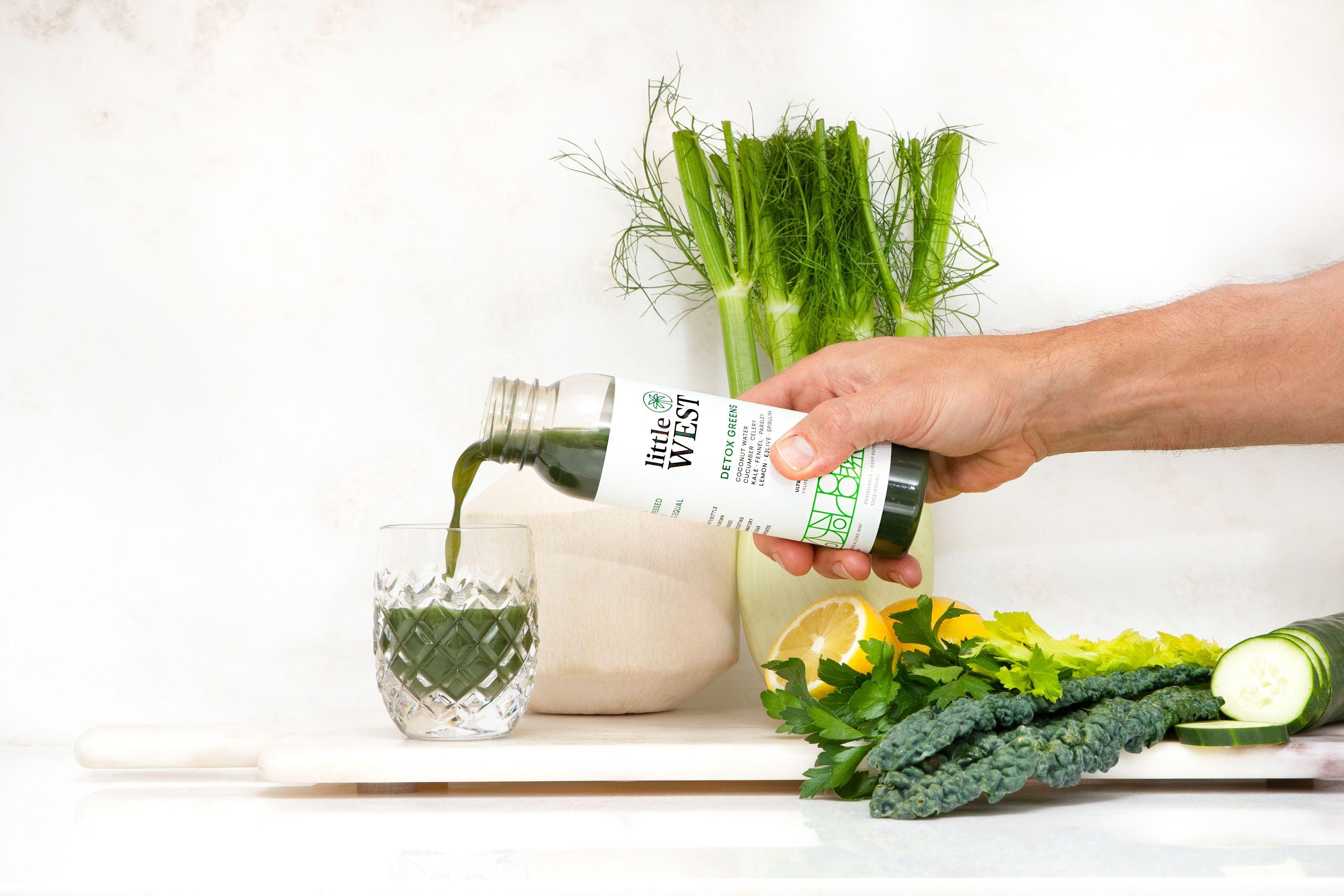 Did you know that January 26 is National Green Juice Day? It seems like there's a holiday for everything these days – but hey, we're not mad about it. Life is meant for celebration! And here at Little West, we'll take any excuse to celebrate juice. 
It's no surprise to us that green juice earned its own holiday. Green juices are among the most popular cold pressed juices in the world. But is green juice actually healthy? Will it help you lose weight and boost your immune system? Does green juice live up to all the hype?
Whether it's National Green Juice Day or just a random Thursday morning, it's always a great time to learn more about cold pressed green juice. Here are some important facts everyone should know.
What is Green Juice?
If you're new to juicing, you might be wondering what green juice is and what it tastes like. After all, it's not like orange juice. "Green" is a color, not a single ingredient, so green juices come in a wide variety of flavors depending on the recipe. 
But all green juices use vegetables and fruits that are rich in chlorophyll, a plant molecule that gives them a vibrant green color. Commonly used ingredients in green juices include spinach, kale, cucumber, mint, celery, dandelion, cilantro, fennel, and green algae like spirulina. Many green juices are also naturally sweetened with pear or apple. 
Green juices have distinct, unique flavors based on the ingredients in the recipe. Some green juices, like Little West's The Clover and Detox Greens, have a "vegetable-forward" flavor profile with more crisp, clean notes of leafy green taste. Others, like our Gold'n Greens, are "fruit-forward" juices that have more natural sweetness from pineapple and fuji apple.
With all the varieties of cold pressed green juice flavors, there's something for everyone!
Is Green Juice Healthy?
The short answer: it depends. 
A green juice is only as healthy as its ingredients. For example, Little West green juices may help boost your immune system because we use leafy green ingredients like kale and spinach, which are naturally high in vitamin C and antioxidants. The vegetables and fruits in our green juices are associated with a wide variety of health benefits.
Unfortunately, not all green juices are created equal. The color alone won't tell you if a juice is healthy. Some companies load their green juices with as much added sugar or artificial sweetener as a soda! They may also use concentrates, preservatives, artificial colors, or other chemicals that can be harmful to the body. 
Many commercial green juices, even organic brands, are also heat pasteurized. The heat destroys most of the nutritional value of the ingredients in the juice, "cooking off" the vital enzymes as well as vitamins, minerals, and antioxidants. This process also dulls the flavor. 
Little West is cold pressed and uses High Pressure Processing (HPP) instead of heat pasteurization to preserve the nutrient vitality of every ingredient. Like all Little West flavors, our green juices are 100% fresh vegetables and fruits, with no added sugars, sweeteners, preservatives, or artificial ingredients. What you see is what you get! 
Drinking a Little West green juice is a delicious, convenient way to consume more green vegetables and fruits. Our juices provide a healthy serving of vitamins, minerals, and antioxidants to help you thrive.
Myths & Facts About Green Juice
Myth: Green Juice Heals Everything 
Fact: Green Juice Isn't a Magic "Cure-All" 
On blogs and social media, people often talk about green juice as if it magically solves all their problems overnight. While green juices do offer a variety of health benefits and can boost your wellness, they're not an instant "cure-all." 
Think of green juice as an extra serving of vegetables and fruit. If you're trying to get healthier, consuming more vegetables and fruit will certainly help, but it's only one piece of the puzzle. You still need to follow a balanced diet, cut back or eliminate processed foods, get regular exercise, and consult with your healthcare provider if you have underlying conditions. 
Myth: Green Juice Can Help You Skip Meals 
Fact: It's Not a Meal Replacement
At Little West, we believe green juice should add to your meals, not replace them. Our juices are not intended to replace whole meals unless you're doing a short juice cleanse.
Myth: People Only Drink Green Juice in the Morning 
Fact: You Can Drink Green Juice Any Time
Many people start their day with a green juice before coffee or breakfast. While Little West green juices are an excellent way to hydrate after you wake up and jumpstart your body with nutrients, you can drink them any time and still receive the same health benefits.
Myth: Green Juice Tastes like "Salad Water"
Fact: Little West Juices are Sweet, Flavorful, and Delicious
Some people avoid green juices because they don't like the taste of certain green vegetables like kale and spinach. Hey, we get it – you don't want to drink a salad. We don't, either! That's why all Little West cold pressed green juices include a variety of ingredients, not just vegetables. Our green juices are vibrant, naturally sweet, and deeply hydrating.
Myth: Green Juice is For Adults Only
Fact: Kids Love Green Juice from Little West
Little ones can be picky eaters, especially when it comes to green foods. But we've found that kids love Little West green juices. Our brand is named after our founders' oldest son, West, who loves The Clover and other flavors. 
Green juices can be a great way to get your child to consume more servings of fruits and vegetables. They're also a healthy alternative to soda and artificially-flavored drinks.
The Best Green Juice Recipe
If you got inspired and you want to try to make your own green juices to enjoy the amazing benefits of green juice, we have a delicious recipe for you. In order to make this delicious and healthy green juice, you're going to need a juicer and a blender, in addition to the ingredients. Just remember - the best green juice recipes are made with fresh and high quality produce! 
Ingredients
3-5 apples depending on the size
Quarter of a lemon
Handful of spinach
Half an avocado
Few cubes of ice (if preferred)
Directions
Wash the apple, lemon and spinach. Remove the stems and the core of the apples and most of the lemon peel (some of the white layer can be left on). Juice the apples and lemon into a jug. Add the apple and lemon juice into a blender with the avocado, spinach and the ice cubes. Blend for 15-30 seconds, or as long until the ingredients are fully blended and smooth. Pour into a glass or a bottle and enjoy!
Variations And Tips
You can use other delicious fruits and vegetables to make this the best green juice recipe for you! Juicing celery, broccoli stem and cucumber, would for example make a delicious and nutrient-dense addition into this green juice recipe. 
To add to the blending part, you can add kale, kiwi or banana, for example. Make sure not to add too much of the "thicker" ingredients, as you could end up with a smoothie bowl! Avocado makes a great ingredient, since it contains some good fats - did you know that oil helps the nutrients to absorb? If you opt out the avocado, make sure to add a few drops of olive oil before blending to make sure you get all the green juice benefits. 
This delicious green juice stays in the fridge fresh to drink for about 1-2 days. Store with a lid on, to prevent the smells and flavors from the fridge to affect the juice. Because all the ingredients are natural, separation and color changes might happen. Just give the drink a good shake and it will go back to normal. 
Nutritional Facts And Benefits Of The Best Green Juice Recipe
This delicious green juice recipe contains around 240 calories per serving. In the same amount you get 6 grams of fats, 20 grams of carbohydrates, 30 grams of sugars, 5 grams of fiber and 3 grams of protein. 
This recipe is full of green juice benefits. With ingredients like apple, spinach and lemon, you get fiber, antioxidants and several vitamins. Spinach is also known to be high in minerals, such as iron, zinc and magnesium. Avocados are high in healthy fats, vitamin B and it can make you feel full for longer. All these delicious and nutrient-dense ingredients make this the best green juice recipe!
If you figured all of this will be a bit too much work, and you rather have your green juice delivered to your door, take a look at the delicious options here!
How to Choose the Best Green Juice 
To make sure you choose the best green juice, always read the label. Look for cold pressed and High Pressure Processed (not pasteurized). Be sure to check for hidden ingredients, too. 
The best green juices will be 100% fruits and vegetables, never watered down, with zero added sugars, zero concentrates, and zero preservatives. (Hmm, that sounds familiar…) 
Have a happy National Green Juice Day and cheers to your health!